About Us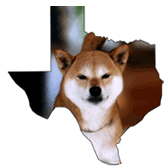 We are the Shiba Inu Rescue of Texas. We find homes for stray, abandoned or unwanted dogs of the Shiba Inu breed. We generally take dogs into our rescue from a variety of situations; from owner releases, to commercial breeder intakes, to strays found at the shelter. Every single last dog that goes through our care is evaluated, fully vetted, spayed or neutered and matched up to a wonderful home environment where we feel that each individual dog will thrive and live to its fullest potential. We are not a shelter, but instead a network of foster homes all over the great state of Texas. Shelter situations are often not a good mix for the Shiba Inu breed, and by being a rescue based on foster care, we are able to give closer care and attention to the specific needs of each dog and are able to evaluate and adapt to their needs on a case by case basis.
Since our humble start back in 1999, we have successfully adopted hundreds of Shiba Inu dogs and Shiba mixes (including the occasional "honorary Shiba") to loving homes, and we like to consider each adoptive home a part of the SIRTx family. We strive to make sure every Shiba that comes through our rescue is taken care of, regardless of how long ago they've left us. As a rescue, we promise to take back any dog we've adopted at any time if the owners find themselves no longer able to care for them, rather than see the dog placed back in a potentially dangerous shelter situation. We pride ourselves in the commitment we put forth in working with Shiba owners in training needs or behavior questions, regardless of if they have adopted from us in the past.
Only recently have we begun to really grow, expanding our efforts to bordering states, gaining invaluable volunteers who help foster, transport, and organize our rescue efforts, and being able to help more Shibas because of it. In November of 2010, we were happy to announce receiving our 501(c)3 non profit status, which has only further helped us reach our goal in saving more dogs and will continue to pave the way.
We have gone through loss, joy, tough times and great rewards on our short rescue journey, and we couldn't have made it without the love and care of all those who have helped us, adopted from us, or shared an encouraging word. We hope to continue to do our best in our efforts to save the Shiba Inu and look forward to the help we will receive along the way.
We can't save them all, but we save all we can.